Our team has extensive experience in both consecutive and simultaneous modes of interpreting in depositions, mediation, patient assessments, press meetings, videos, employee training, and various summits, conventions, and private conferences, including abroad. Babel Linguistics also provides on-call service for onsite, video, and phone interpreting during holidays, emergencies, or after hours. [Call our hotline 805-453-6647 to quickly setup.]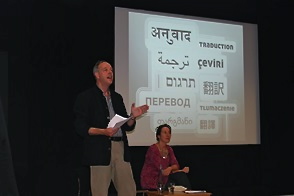 Consecutive interpretation (CI): Speaker stops usually at the end of every "paragraph" or a complete idea, and Interpreter proceeds to translate into target language. Note-taking is a key skill here, since few interpreters can memorize a full paragraph at a time without some loss of detail.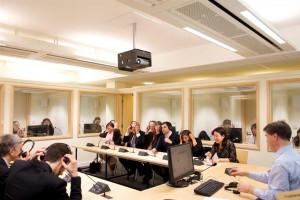 Simultaneous interpretation (SI): Our favorite mode of interpreting. Involves translating as the speaker speaks. Usually 2 interpreters of same language work jointly during an event to avoid mental fatigue. SI is usually performed from a soundproofed booth and involves proper technical installation of necessary equipment, including regular or lav mikes/ear pieces, which BL does not provide at this time. Our experience often includes Escort Interpretation (or Liaison) for delegations and groups on tour and during interviews, for which we've used the "simultaneous" modality without the need of any equipment.
Sight translation and Whispering: In our interpreting experience in judicial, medical, and multilingual conference settings we have often rendered sight translation of documents, as well as whispered interpreting to an individual in our seating proximity.
Contact us for a quote based on your interpreting needs and language(s).