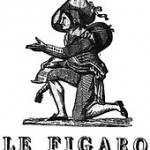 Our crew was commissioned to work on the digital initiative in English language of Le Figaro, France's oldest and second-largest newspaper. We worked directly with seasoned journalists from the international section of Le Figaro as they traveled across the United States writing a series of posts. One of the projects (and our own favorite) is called "TransAmerica: Around the United States in 460 days". It is a fascinating look at American culture and politics through the eyes of a French reporter who was one of the lucky recipients of the Knight-Wallace Fellowship from the University of Michigan. 
Check out a sampling of articles featuring our translation/editorial work from French:
The US Wants You!
Motor City rolls out the red carpet to Hollywood
Separated but not equal
What future for Detroit?
To Muslims, Obama is not the Messiah
Unorthodox spies in mosques
Muslims, a community under surveillance
Deserter's Reprieve
The Hidden Face of the Tea Party
The Permanent Campaign
Obama's Chicago

More about our projects in featured work.